Routine Physical Examinations
Routine physicals are an important part of your general health care maintenance and are intended to assess your overall health. If you are experiencing specific problems, please schedule an office visit to address those concerns.
All of our providers perform PAP smears and sports physicals. All of our physicians perform both child well exams and adult well exams.
As a reminder, if you are scheduled for a routine physical, you must come in fasting 6 or more hours prior to your scheduled appointment time so that the blood work we draw will be as accurate as it can be. You may have water and black coffee ONLY! We open up at 8 AM to let people have the blood draw for an appointment later that SAME Day.
When to Schedule A Physical Exam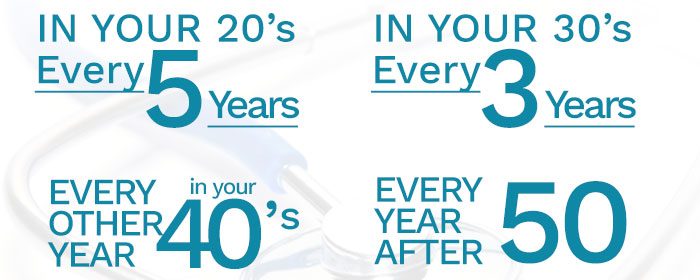 Annual Exams & Insurance
Commercial insurance and managed care plan benefits for routine and preventive care vary with the plan. You should verify your benefits prior to services being rendered. Remember that having an insurance card may not mean automatically that you have coverage for routine or preventive care.
Medicare and Medicare Supplemental covers "Welcome to Medicare" physical within the first 6 months of coverage. Medicare and Medicare Supplemental coverage for preventive medicine is limited to specific preventive tests and exams that can be given only according to certain guidelines for how frequently these can be provided.
Sports & Clearance Physicals
We do Sports, Band, Scouts, Scuba Driving (Dr. Dan is a Rescue Diver and enjoys meeting new and certified divers), and clearance for other activities and for work. We also do school forms including 3300 (Hearing and Vision) and 3231 (Immunizations).
We DO NOT do DOT Physicals.
Medication Refills
We follow and treat many life-long diagnoses that need closer follow-up more than once a year. These include but not limited to:
Diabetes
High blood pressure (Hypertension)
High Cholesterol
Thyroid
Asthma/ COPD
Depression and or Anxiety
ADD/ ADHD
Schedule An Appointment
Make a same-day appointment to see one of our providers today!